I've had a lot of requests to use my images in publications, websites, artwork and bird apps, so I thought I'd list the ones I can remember.

8th June 2021
Hi Kevin,
We are a French publishing house of International field guide of marine species (waterproof PVC books). You can see them at www.pictolife.net
We are creating now our birds guide and we want to use an image from you for this book. Therefore, we would like to ask you the publication rights for a picture of Anthus trivialis found on your gallery :
www.flickr.com/photos/7482089@N04/32017388918/in/photolist-QMgufS
We could offer you a book for the use of this photo, and your name would appear on the back cover of the book.
Our company is very small and we use a lot of photography so this kind of arrangement is necessary for us to publish good quality books.
You can have a look at our books, you'll see then if their qualities are worth your participation.
Let me know if those conditions would be acceptable for you. You can answer directly with Flickr.
Yours sincerely,
Clara from Pictolife

18th May 2021
Dear Kevin
Hello there! Thanks ever so much for uploading your fantastic images to our official BBC Springwatch group here, they are great!
We just wanted to get in touch and let you know that your Robin photo has been selected to be featured in a prop on the show!
Keep your eyes peeled and keep up the fantastic work!
All the best on behalf of us all here on the team,
Summer

18th May 2021
Dear Kevin
Hello there! Thanks ever so much for uploading your fantastic images to our official BBC Springwatch group here, they are great!
We just wanted to get in touch and let you know that your Stockdove photo has been selected to be featured in a prop on the show!
Keep your eyes peeled and keep up the fantastic work!
All the best on behalf of us all here on the team,
Summer

10th May 2021
Hi.
I'm an Icelandic bird watcher presently writing a book, a kind of a diary, where I publish 52 photos, one for each week of the year 2022, and have some information on each species.
I saw your beautiful photo of Ficedula hypoleuca, and was wondering if you would be willing to let me use it in my book?
It's a rare vagrant in Iceland.
You will be credited of course.
Sincerely.
Sigurður Ægisson

6th March 2021
Dear Kevin Agar,
This page is done :
www.monaconatureencyclopedia.com/carduelis-carduelis/?lang=en
French in a few days.
For Spanish I am looking for volunteers.
Thank you so much again.
Giuseppe Mazza
23rd February 2021
Dear Kevin Agar,
I run Monaco Nature Encyclopedia a no profit online encyclopedia.
For an article like these :
www.monaconatureencyclopedia.com/cyanistes-caeruleus/?lang=en
www.monaconatureencyclopedia.com/luscinia-svecica/?lang=en
www.monaconatureencyclopedia.com/motacilla-cinerea/?lang=en
about Carduelis carduelis, I would like to use your interesting photos.
It's possible?
Of course, I will write near to the photo © Kevin Agar.
Thank you very much.
All the best.
Dr. Giuseppe Mazza
Président de Monaco Nature Encyclopedia
18, boulevard des Moulins
98000 – MONACO
Tél. 00377 – 93.50.81.70
Mob. 0033 – 06.32.04.28.86
www.monaconatureencyclopedia.com

21st January 2021
Dear Kevin,
Hello there! Thanks ever so much for uploading your fantastic images to our official BBC Springwatch group here, they are great!
We just wanted to get in touch and let you know that your Mandarin duck photo has been selected by our team to be featured on our show.
If there're any issues please let me know,
Best,
Charlie

20th January 2021
In October 2018 I received a request from a Dr Chris Boland, to use one of my photos in an upcoming book on the Birds of Saudi Arabia. The book was for the education of the people of the kingdom of Saudi Arabia and to try and increase the awareness of conservation. Due to the nature of the project for education, there was no money to pay for photographs but a copy of the book would be forwarded to me as payment.
Yesterday a 6.6kg parcel arrived from Saudi Arabia and inside were two books. Volumes 1 The Birds of Saudi Arabia, The Lives of Birds, and Volume 2 The Birds of Saudi Arabia, Species Accounts.
I must say they are 2 of the finest reference books I've ever seen. I feel very privileged that my photo of a Brown-necked Raven in flight was considered for the book. Here are some phone shots of the 2 books and the page with my photo.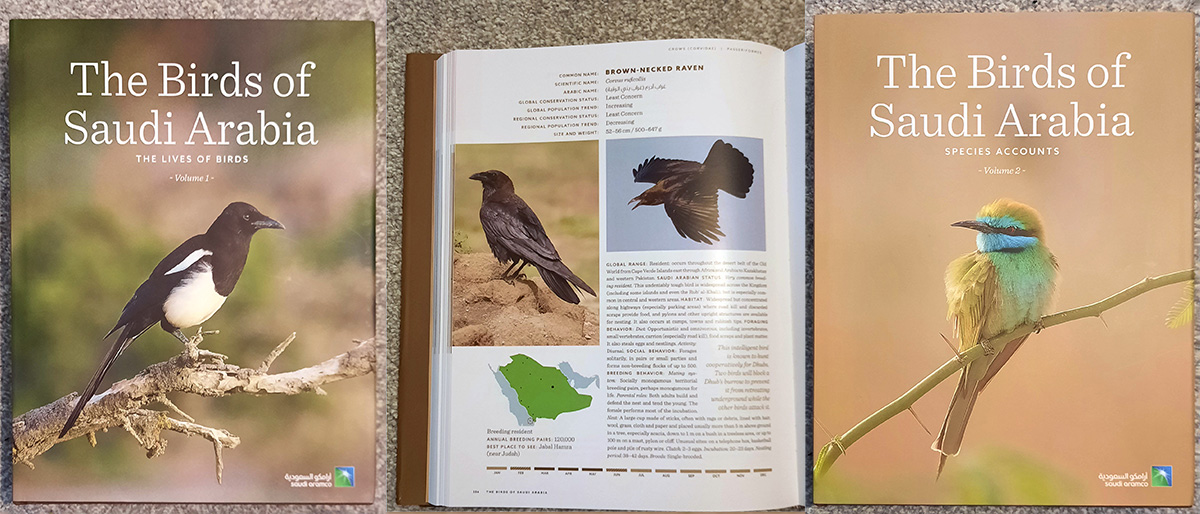 20th October 2020
Hi Kevin,
I work for Parks Victoria at Wilsons Promontory National Park.
I am currently developing signage for our campgrounds and would love to include your photo of the Little Wattlebird sitting on the banksia (with photo credit).
Please let me know what you think.
Kind regards,
Lucy

8th October 2020
Hi Kevin,
I thought I'd sent this to you earlier this week but my email's been playing up and now I'm not sure if it was sent! Apologies if you've already received this but in case you hadn't – please see the latest issue of the Be Well Bugle attached. If you'd like a hard copy just let me know what your address is and I can get one sent out to you.
Thanks again for your help and for letting us use the photos, they really added a lot to the magazine this month!
All the best,
Hero

Thick-billed Weaver
Date: 4th June 2020
Hello Kevin
I hope this note finds you safe and well during these exceptionally challenging times around the world.
By way of quick introduction, I am a former bush guide and, with my partner Charlotte, have developed a wildlife, maps and routes field guide App for Kruger National Park, called KrugerExplorer.
It includes over 450 detailed animal profiles, hundreds of high-quality photographic images, 70 guided and highly descriptive routes from each of the camps and gates in the park and the most up-to-date maps of Kruger available today.
We're just a two-person project but have had a wonderful reception since launch, with over 200 5-star reviews across the App Store and Google Play globally, and were recently featured by Apple as "App of the Day" which was a superb recognition of the App's quality and value to Kruger lovers. There is also a review of the App in the current edition of Getaway Magazine.
Our initial launch included about 300 Kruger bird profiles but we are now expanding that into some of Kruger's rarer and harder to find species, using the lockdown time wisely! While my photography catalogue is very good from many years of travelling around Southern Africa, I do have a number of gaps where either my images aren't good enough or where I don't have a photo at all.
A few friends from Kruger have helped us fill these gaps but we still have others missing and so I wanted to see if you might be open to us making use of your exceptional Thick-billed Weaver image that you have posted on here? Finding a great image of this species is proving a bit of a headache at the moment!
Where we have used others' images, we have made sure that we have included a clear named credit in the caption accompanying the image, which has worked nicely too.
I'm sure all of this would come to life a bit more if you were able to take a look at the App as well. I'd be very happy to send you a code so you can download the App for free and take a look – I'd just need to know if you are on an Apple or Android device so I can send the right type of code to get you set up.
Do let us know if any questions as well and interested to get your thoughts.
Wishing you all the best during these challenging times and best regards,
Dan
Hi Kevin
Thanks so much for getting back to me so quickly and for being open to us using the image in our project – we're very grateful!
If you could possibly email the original RAW or JPG file to me at ****@****.com (the 'team' is just me and my partner!) that would be perfect as I have to process the image into the correct technical specifications for the app.
Absolutely no problem at all about the credit – you will see in the app how we have done that with others (tap on the photo and there is a text caption underneath – the Elephant Shrew in the Mammals is a good example of one that isn't mine.) Very happy to include your web address alongside your name too.
That sounds great regarding including the request on your website, very happy for you to do so. If you could link to the app as well that would be much appreciated. This link is a 'smart' link that takes people to our home page if they click it on a desktop or laptop, but takes them to our page on the App Store or Google Play if they tap it on a mobile or tablet device: onelink.to/krugerexplorer

Singing Blackbird
Date: 18th May 2020
Dear Kevin,
I found www.flickr.com/photos/7482089@N04/8728101882/ searching for a singing blackbird photograph. I would like to ask for your permission to use this photograph on our local church community website? During Corona crisis we are offering a short impuls every day and now we are planing a poem about singing blackbirds in May. Therefore your picture would be great. I will add a link to your Flickr gallery and mention you as copyright holder of the picture.
I hope you are willing to help and give permission to use your photograph.
Thanks and best regards from Germany
Holger
Hi Kevin,
again, thanks for your OK to use your blackbird photo. Our impuls for Tuesday is now online: www.erloeserkirche-bamberg.de/2020-05-19-mai-jubel .. sorry, all in German but you might like to listen to some spring poem in this years crisis context by Martin Neubauer who is a well known actor in Bamberg.
Best regards and stay safe,
Holger

Subject: Photos for a Global Animal App
Date: 26th March 2020
Hi Kevin
My name is Leighann and I'm from South Africa.
Apologies for the unsolicited contact, but some of your photos on Flickr got my attention. You have some great images in your collection and I hope you will be able to help.
We are busy updating, improving and modernising an existing birding mobile app. In addition to still having the birds of the world, the updated version of the app will include mammals, reptiles and amphibians.
The app will combine giving the user information on each animal, providing the user the functionality to record his/her sightings and then also providing the ability to view the general location of the sightings of other users. We hope the app can increase general awareness and interest in animals other than big mammals and colourful birds and that it will provide a handy tool for amateurs and more experienced enthusiasts.
The full new version of the app will be available to users free of charge.
Please feel free to look at the current version of the worldwide birding app (please see www.konkoit.com or download the Konkoit app for either IOS or Android) that we are improving on.
My request is whether it would be possible to use some of your images in the app? We already have content from other photographers, but still have animals where we are missing good images where you have great photos!
Should you agree we will give you credit in the app next to each photo used as well as provide a link to a website of your choice (e.g. your Flickr page or any other page of your choice).
It will be great if you could help, but please let me have your thoughts.
Thank you.
Warmest regards,
Leighann Fiford

Dear Kevin,
Thank you for uploading your fantastic images to the Official BBC Springwatch group!
Just to let you know we may be running some on our website, red button and social media accounts with full credit to yourself! So keep your eyes peeled!
Many thanks and all the very best!
Hannah (The Watches Team)

Dear Kevin
I saw this on Flickr, and would love to use it in a book I'm writing with Per Alstrom on the world's larks (for the Helm Identification Guides series). The book should be out at the end of next year and of course you would receive a free copy if we use any of your photos. Please let me know by emailing me on *****@*********.co.uk.
Many thanks
Paul

Hello Kevin,
My name is Dr. Chris Boland. I am an ornithologist from Australia currently living in Saudi Arabia and working at Saudi Aramco.
I am working with Saudi Aramco to develop a beautiful photographic book of the Birds of Saudi Arabia. I have seen some of your absolutely wonderful photos of birds on Flickr, and was wondering if you might be interested in contributing some of them for the project?
Specifically, I am interested in the terrific Brown-necked Raven photo you have on your Flickr page:
We have gathered most of the photos for the book from a collection of around 50 Arabian photographers who have been volunteering their photos for use in the book. However, there are still 5–6 species that we need more photos of.
These birds are very common in Saudi Arabia we have captured some really great images of this bird… but I just love your pic so much and I am wondering if you'd be interested in allowing us to use your image in the book? It's quite rare to have a shot of the raven in flight that still shows the brown neck.
The book is 95% complete and we intend to publish in 2019. The book contains color photos of every bird species recorded in Saudi Arabia. Each species will have a full-page species account, containing a photo, a distribution map and some detailed information about its behavior (foraging, breeding, sociality, etc.).
We are unable to pay for the photos used in the book. Saudi Aramco will not be selling the book. Instead, we will be giving it away for free to interested people to try and encourage people to love and protect birds. It will be given to members of the Royal Family, and key landowners and managers, and schools and universities and many other places, along with every day community members. The whole purpose of the book is to try and raise awareness to help conserve the threatened birds of Saudi Arabia.
If you were able to contribute your photo, we would provide you with a couple of copies of the book and of course include your name in the photo credits.
If you are interested, I would love to receive a high resolution version of the shot, either as raw, or nef, or cr2, or the highest res JPEG that you can. You could send the image either via email (Christopher.boland@aramco.com or chrisrjboland@gmail.com) if it is less than 15 MB, or via wetransfer or dropbox (chrisrjboland@gmail.com), or via any other similar file-sharing platform.
About me: I have a PhD in bird behavior from Australian National University in Canberra, and it is my life's mission to try and share the beauty of birds with as many people as possible to inspire and inform them so we can help protect biodiversity. I've published about 30 manuscripts in international journals, and I am sure this book will be very valuable for years to come.
If you are interested in contributing a photo to this great project, please contact me at christopher.boland@aramco.com and I can give you much more information about the project.
No problem at all if you don't feel like contributing any of your photos. I totally understand.
Best wishes and congrats on the awesome photos.
Chris

Hi Kevin
We had a website whose objective is to document all bird species that were recorded in a wild state in Singapore with good photos so as to enable users to identify them should they see these birds in the field.
The White-tailed Tropicbird is a vagrant to Singapore with only one record of lone bird rescued near the coast in June 2015. As such, we do not have photos of it in flight showing the key ID features like the blackish band on the inner wing, blackish patch at the outer primaries and around the eyes/lores plus the long central tail feathers.
As such, we would like to seek your permission to use one of your images of the White-tailed Tropicbird in flight in the write-up of this species in our website. singaporebirds.com/species/white-tailed-tropicbird/
We will acknowledge your contribution in our website and on the photo itself.
If you are alright with it, I will download the images from Flickr.
Regards
See Toh

Dear Kevin,
My name is Paul Jeanes, I live in West Somerset, England, I was wondering if you could allow me to use any of your images for my painting projects, if you were to give me permission to use any of your images I could supply you with a print of the completed painting if you would like, I work with Acrylics, Oils and Watercolours.
Best regards
Paul

Hello Kevin –
I work at American Bird Conservancy, a non-profit based in Washington DC that's dedicated to bird conservation throughout the Americas.
I'm writing to ask your permission to use one of your excellent photos – this would be of a male Great Curassow. We'd be using it to illustrate our "Bird of the Week" feature (see abcbirds.org/birds/bird-of-the-week/ for examples). This would be an online usage only, and we would of course give you credit for your work.
Thanks for your consideration!
Gemma Radko
Communications and Media Manager
American Bird Conservancy
Washington, DC
gradko@abcbirds.org

Hi Kevin,
We would love to feature your photo: 'Dipper' www.flickr.com/photos/7482089@N04/6126473473/
On our new Woodland Trust website, which is currently in development and is expected to go live in 2019. We'd also like to add it to our media library for general use by the Woodland Trust.
We would not own your image – we would just like to have permission to use it.
You will be credited where the image is used.
If you are happy for use to your photo, could you please;
1. Confirm that you took the photo and own the copyright.
2. Confirm if we have permission to use your photo on our website.
3. Confirm that we can add it to our media library for general use, including social media, by the Woodland Trust?
The Woodland Trust is a non-profit making woodland conservation charity.
Best wishes,
Joe Bates
Content Editor
JoeBates@woodlandtrust.org.uk
www.woodlandtrust.org.uk/

Hello,
I am involved in a travel community Rove Me (roveme.com/?utm_source=flickr&utm_medium=message&utm_campaign=photo_ask) that helps people choose where to go and when. Currently, we are working on Fiji. We select and shortly describe the best seasonal experiences it offers. And we are also looking for pictures to visualize those experiences.
I came across your pictures (www.flickr.com/photos/7482089@N04/7279594216/
www.flickr.com/photos/7482089@N04/7279594800/
www.flickr.com/photos/7482089@N04/7279594566/)
and would like to feature it in our article about Collared Lories. So I'm asking your permission to use it. We will add an attribution with the flickr link or a link to your website. Once we publish it, I will send you the link to the article with your picture. Let me know what you think. Thank you!
Have a great day,
Tereza
Hello!
Thank you for letting us use your photo! Here is a link to the article with your image — roveme.com/to/fiji/collared-lory-breeding-season/?utm_source=flickr&utm_medium=message&utm_campaign=photo_link
I think it looks great! Let me know whether the attribution, as well as the content, is correct. Also, feel free to share it with your social media followers, so that they can get inspired!
I hope our site will be useful for you as well. You can check different destinations and experiences, and create your own travel wishlist. When you do so, once a month you will get an email with the items from your wishlist to remind you about these experiences and motivate you to take new inspiring pictures! It's all about the right timing, isn't it?
Cheers,
Anna S:)
P.S. Stay tuned! www.facebook.com/rovemeto/

Hi Kevin
Your photography is absolutely stunning! I'd like to feature a picture in our upcoming autumn magazine, but I was hoping you wouldn't mind us using a couple more across our media channels (the mag, social media, e-news and website). You would always be credited, of course.
The pictures I'd like to use are below:
www.flickr.com/photos/7482089@N04/35043044363/in/dateposted/
www.flickr.com/photos/7482089@N04/35961010646/in/dateposted/
www.flickr.com/photos/7482089@N04/34013358413/in/photostream/
If not, not problem, and thank you for putting some of your lovely work in the YWT Flickr group.
Helen
Communicatons trainee
Yorkshire Wildlife Trust

Dear Mr Agar,
I am a biologist in Switzerland and I am currently working on an educational panels project. I am looking for a good photograph of Emberiza schoeniclus, and I found a beautiful one on your account:
www.flickr.com/photos/7482089@N04/34840454236/in/photolist-V5JrdQ-VqVhxk-UymRQA-T1ptDZ-Sh9Ff5-THcsoZ-Ta7FRv-VubhkE-S75MpJ-Sispqj-RRpaqz-RRpbgT-SRuYoy-Sck6bJ-UsceXS-SQSJqt-TghRtU-SKA9YB-Ry4PT8-S4W3gQ-TtLbmJ-UK42fM-UyuZWy-UswswP-SvQkJR-V7ys2a-UfcrTf-RVyDVm-RKsWaL-RHUQNQ-RNo5k2-SquDYE-Um1n5d-SYs7GE-SquDdw-SY16At-RTqQkN-RJXaT7-Tvwn6r-SiEpec-SQEZ3p-bsBABm-SAHRjg-hwh11Y-qYYzYJ-UQE8yJ-UUc1Af-UF9sKd-VDKdVT-T49FYY
I am interested of buying you the rights to put this picture on one of the panel (picture will appear approximately 5×5 cm height). We can offer you 100 CHF for this height (~= 82 £).
I am looking forward for your answer!
Greetings from Switzerland,
Pauline Guillemin

Hi Kevin, I'm putting together the latest issue of Wild London, our members' magazine, and was wondering if we could possibly use an image you shared on Flickr of a lesser spotted woodpecker?
www.flickr.com/photos/7482089@N04/15422454040/
We can provide full credit but I regret we have no budget for images – I have to beg and borrow (but I draw the line at stealing)!
If you can help, I'm easiest contacted on press@wildlondon.org.uk or ***********
As always, we're working to very tight schedules, if you could let me know by Friday 7th April I'd be hugely grateful.
With best wishes, Ian, Senior Communications Officer at London Wildlife Trust

Hi Kevin
Hope you are well?
We're doing an article on the vote for Britain's national bird. I was wondering if we can use your picture of blackbird in a picture gallery.
If it's OK, the image on Flickr is too small so if you can please send a clean hi-res version (min 2500 pixels across) by email to ceri.maclure@bbc.co.uk. We recommend using a file transfer service for very large files.
We may have to crop or flip the photo in order for it to work on some pages (for example our Facebook cover page) – would you be happy for us to do this?
Please do let me know if you have any questions about usage etc.
Many thanks,
Ceri MacLure
Picture Editor
BBC Natural History Unit

Dear Kevin
I work at the newly launched website BBC Earth (previously BBC Nature) – www.bbc.com/earth.
I have downloaded your beautiful image of a blue tit (flic.kr/p/q3xuhe) that you submitted to the BBC Winterwatch Flickr group and would very much like to use it on our website as a Photo of The Day and to possibly promote it on social media such as Facebook and Twitter.
Is this possible and if so, what name should we use for crediting the image?
We're able to put a bit more text images on the BBC Earth website, so would love any extra details on the circumstances surrounding you taking this photo; just things like where it was taken, how you felt, or any funny or interesting anecdotes.
We may have to crop or flip the photo in order for it to work on some pages (for example our Facebook cover page) – would you be happy for us to do this?
Please be advised that the BBC Earth UK website is funded by the licence fee and there are no advertisements. However some of our stories are picked up by the international version, which is commercial and run by BBC Worldwide. All profits made by BBC Worldwide are returned to the BBC, its sole owner to create great new content.
Please do let me know if you have any questions about usage etc.
Many thanks,
Ceri MacLure
Picture Editor
BBC Natural History Unit

I really love your work, (sorry my poor english)
so, I want to use one of your photos in this competition akuaippa.org/pdf/BasesconcursoFULICA.pdf
it´s a colombian magazin. The idea is make an illustration with color pencils based on your photo. I give you the credit and I wonder if it is possible to have the permission to use it , it's just for this contest. I know how hard it is to have this type of photo shots, I do not have the necessary equipment, for this reason I ask permission, you tell me the terms of use.I really appreciate your attention and help: D Have a nice day

Hello,
I work at an environmental education centre called Redlands IndigiScapes Centre. My project at the moment is to develop signage for a specific natural area here. Would it be possible to use your beautiful image? Your image can be credited but unfortunately there has been no budget allowed for purchasing images due to budget cuts in this area.
Thank you,
Karen Schmiing

Hello,
We would very much like to potentially use your beautiful image of a goldfinch that you submitted to the Watches Flickr group (www.flickr.com/photos/7482089@N04/13379641943/) in a gallery on the BBC Nature website.
Would that be possible? If so, what is your full name please, so I can copyright the image properly?
We need to publish this gallery on Thursday morning and due to the quick turnaround we are having to ask more people than we can actually use, but hope to use your image. I do hope you understand.
Many thanks,
Cate

Kevin,
I am working on a project with year 5 students focusing on local wildlife. The not for profit project is in its fourth year and has produced a great collection of books for kids, by kids and about animals from sugar gliders to blue banded bees. This year we have the theme of water, wildlife and the urban environment and have chosen a few key representative local species that are associated with water and represent some of the major animal groups.Our representative species are:
Fiery Skimmer Orthetrum villosovittatum (Invertebrates)
Perons Tree Frog Litoria peroni (Amphibians)
Eastern Water Dragon Physignathus lesueurii (Reptiles)
Rakali aka Water-Rat Hydromys chrysogaster (Mammals)
Azure Kingfisher Alcedo azurea (Birds)I am trying to source images for use in promotions sent to participating schools and in displays and talks given to the students. I would like to be able to use your photo of the Water Rat, for these purposes. Can you please let me know what you're the conditions of usage of your images are? And if you would allow use to use your photos.
Thanks for your time and I look forward to your response.
Simon Brown

You do not know me but I discovered your gorgeous photos one day while searching for Bird Identifications and looked at your photo stream from your one photo. I referred your photos to this group I hope you do not mind but they are so good they deserve to be shown more. I hope I have not offended you.
Take care and Happy shooting, have a great weekend.
Smiles and Blessings,
Jen :-)))

Dear Kevin B Agar,
We love your photograph, 'Willow Warbler' in the Springwatch Flickrgroup, and we'd like to use it in our live Springwatch series, due to air tonight!
We will credit you as Kevin B Agar and all rights will, of course, remain yours. (Image size max 8MB).
At this stage we cannot guarantee that your image will be used but we wanted to let you know of the possibility of it appearing. If we do not hear from you we will assume you are happy for us to use the photograph in the programme. Thank you.
Best wishes,
The Springwatch team

Hi there, I love your Blue tit photo. I'm new to Flickr and I'm looking for an image of a blue tit that I could use for a present for an elderly relative. She loves these little birds and she used to live in the countryside and see more of them but now she can't get out as much as she used to. If you wouldn't mind me possibly using this image, please let me know. Thanks so much, I look forward to your reply,
Linda

Hello, my name is Zlatko.
I've been an avid birdwatcher and admirer for over 10 years now. Ever since my family and I went for a vacation in Jamaica, I have been in love with beautiful exotic birds. My passion for caring and studying birds has brought me to this moment in my life where I would like to open a bird sanctuary where these animals can be viewed and seen by children and others like myself.
I would also like to create a website which would feature pictures and information on particular species of birds, detailing their habitats, diet, behaviors and other information. The website would specialize in bird species native to tropical (but not restricted to) climates. My dream is also to create a book based on the website, which would use the proceeds towards the animal sanctuary.
I was wondering if you would allow me to use your pictures at these links – I can download the high resolution version if you are ok with it.
www.flickr.com/photos/7482089@N04/8254177183/
I think it would be a wonderful compliment to the others which have been graciously donated.
Thank you very much for your consideration, if you are interested please reply to me and include your full name so that I can credit the work to yourself, if you disapprove – please take the a moment to tell me that also.
Thanks once again.
-Zlatko

Thank you Kevin. Once again, lovely shots. Really looking forward to using some of them.
Best wishes,
Simon
www.parkland-walk.org.uk/index.php/nature/wildlife/birds.html
Hi Kevin,
I've just been admiring your work. I'm building a web page for The Friends of The Parkland Walk and am on the lookout for photographers who would permit me to use their pictures up to a maximum 400 px square 72px resolution with no fee but a credit and link if you wish. Would you be prepared to be involved with that? I'm sorry we can't offer anything in the form of a fee. We are a non profit friends group promoting the conservation and protection of the Parkland Walk and its associated flora and fauna.
The following link takes you to the bird page currently under construction.
Very best wishes,
Simon Olley
Chair, Friends of The Parkland Walk

Dear Mr. Agar,
The Society for the Protection of Nature in Lebanon (SPNL) is a national NGO officially recognized by the Ministry of Interior in 1986. SPNL, the BirdLife national partner in Lebanon, aims at protecting nature, birds and biodiversity in Lebanon,
and to ensure sustainable use of natural resources through reviving the concept of Al Hima. As a national environmental NGO in Lebanon, SPNL contributes to both raising awareness on environmental issues, concretely protecting natural
areas in Lebanon and promoting policy change.
SPNL bases its work on sound science and passionate commitment, which through transparent and democratic processes, leads to a well-informed public. SPNL also
strives to advocate a better quality of life for people and nature, through conserving sites, protecting species, and assuring sustainability.
I am Shalimar Sinno, the landscape designer at SPNL. After 30 years of conservation efforts, we are currently developing a book about the status of birds in Lebanon, which is the first of its kind in the country. In the book, we need high quality pictures and illustrations about each bird. We would appreciate if you allow us to use this picture (www.flickr.com/photos/7482089@N04/5981819105/);
taking note that full credit will be given to copyrights. Looking forward to hearing back
from you, hopefully with your approval, and indicating the way you would like to state
your name and credit under the picture.
Looking forward for your reply,
Thank you very much,
Shalimar

Dear Kevin
I am project manager for the not-for-profit website "New Zealand Birds Online", to be launched in June 2013. We have been seeking images for 2.5 months now, and have 3670+ images of c.380 species contributed by c.140 photographers.
White-throated needletails (a.k.a. spine-tailed swifts) are rare vagrants in New Zealand. As no images of this species have so far been submitted to NZ Birds Online, I have been searching Flickr for suitable images, and contacting the photographers directly.
Could you please let me know if you are willing to provide one or more images of white-throated needletails for the website. If you are willing, options are either that we copy the images from Flickr and hyper-link back to Flickr and the relevant licensing restrictions, or (our preference) that you register on the pre-live site so that you can browse the entire archive and upload images at your leisure. It is clear from your Flickr archive that you have many other images that would be superb additions to New Zealand Birds Online.
To register, please email me at my work address below to receive a copy of the image use agreement form for New Zealand Birds Online. Otherwise reply to this FlickrMail address.
I look forward to hearing from you.
Kind regards
Colin Miskelly
Curator of Terrestrial Vertebrates
Museum of New Zealand Te Papa Tongarewa
colin.miskelly@tepapa.govt.nz

Hi Kevin,
We love your picture of the humming bird in Barbados and would like to use it on a web site to promote an apartment there. It would be used to show what wildlife is there. Would you allow this and what recognition would you need if you do allow it?
Regards
Richard Seaman
I am currently updating the Hummingbird section on the Avianweb (the largest bird website) and your Green-throated Carib (Eulampis holosericeus) images came up during my research. I would love to publish them on the respective species page:www.avianweb.com/greenthroatedcaribs.html
At the end of this major update, the Avianweb hummingbird section is going to be the most comprehensive hummingbird resource.Proper photo credits and links back would be provided.Please let me know at your earliest convenience.Thank you!
Sibylle

Hello Kevin –
We noticed you had some wonderful photos of birds on your Flickr website. We are currently seeking photos for a bird ID application, and in particular, we are interested in your shot(s) of the White-chinned Petrel. If you would be interested in participating in this program, please let me know and I will send you the details.
Best regards,
Michelle Sixta
Mitch Waite Group
michelle@whatbird.com
www.flickr.com/photos/7482089@N04/5162366358/

Hi Kevin,
I am a photo editor for the Cornell Lab of Ornithology's Neotropical Birds site (neotropical.birds.cornell.edu/portal/home). I am writing to you because I found your photos when looking for Barbados Bullfinch images (such as this one of yours www.flickr.com/photos/7482089@N04/5162366358/), and found a treasure trove of of species images on your photostream that could be of enormous use for our resource.
I wanted to contact you about the possibility of contributing photographs from your flickr stream to our website about neotropical birds. We hope that you will consider allowing us to use images from your photostream in the Neotropical Birds project. As we are an emerging and developing project, the most useful thing that contributing photographers can do for us is to allow us blanket access to their image archives, and we pull screen-sized resolution images as we need them, for publication in our website.
The Cornell Lab of Ornithology is a nonprofit, member-supported organization with limited media resources. By sharing your photographs in NB, you are helping us in our mission to interpret and conserve the earth's biological diversity. The Neotropical Birds site is a newly launched project that is a work-in-progress, and one heavily invested in the use of research, observations, and resources from citizen scientists. There are over 4,500 species of birds in the Neotropics, and we are relying heavily on the graces of potential contributors such as yourself to help advance our mission of education, outreach and conservation of avian life in the Neotropics.
We are unable to give financial renumeration for images at this time, but I would be more than happy to provide you with a credit and a link back to either a website or your flickr photostream, whichever you prefer.
If you grant us permission to use your image, you will not need to do anything further, as we only require a screen-resolution image for use on our website. If you do grant usage permission, we may contact you to provide us with an approximate date (month is fine) and location for these images.
We appreciate your prompt reply, and a sincere thank you in advance for considering my request.
Kind regards,
Andy Johnson
asj43@cornell.edu

Hi Kevin
Many thanks for getting back to me so quickly and for agreeing to let us use one of your beautiful blackcap images. The image we would very much like to use is no 4181
and it is for an exhibition panel at one of our properties – Barry Mill in Angus (one of the last remaining working corn mills in Scotland). I will certainly make sure your image is credited. Which wording would you prefer for your credit – just your name or something else?
With many thanks again for your help and cooperation and I look forward to receiving the image in due course.
Very best wishes
Mary
Mary Stones
Interpretation Project Manager
The National Trust for Scotland